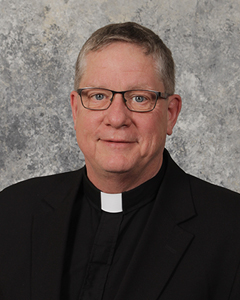 Welcome to St. Mary's, the Catholic church on the capitol square at 14th and K Streets in downtown Lincoln!
St. Mary's has a rich history, beginning as the First Christian Church of Lincoln in 1888. Bishop Bonacum purchased the church on March 29, 1904 and a few years later, began modifications of the interior of the church so it could become the Cathedral of the Diocese of Lincoln. Unfortunately, the church caught fire on August 28, 1906 and was largely destroyed. Renovation began immediately, and the church was formally dedicated as the Cathedral of the Diocese on December 8, 1911. At the time, along with the original Pro-Cathedral, called St. Teresa's, the Catholic population of the city of Lincoln was largely served by St. Mary's Cathedral Church.
St. Mary's can be considered the Mother Church of four Catholic communities in Lincoln which were erected by the subdivision of St. Mary's territorial boundaries: Sacred Heart (1919), Blessed Sacrament (1921), St. Teresa's (1925) and North American Martyrs (1994). On August 18, 1965, the Cathedral of the Risen Christ, located at 3500 Sheridan Boulevard, was formally dedicated as the new cathedral for the Diocese and replaced the cathedral status of St. Mary's.
St. Mary's Church is a gothic structure, with beautiful stained glass windows. The interior is warm, nurturing and spiritually healing. Please visit us, and let the church work its spiritual healing in your heart.
Over the years, St. Mary's has become known as the downtown parish, with a daily confessional ministry (11am to noon, Monday through Friday) and Mass offered daily at 12:10pm. The parish offers confessions on Saturday at 11am to noon, 3pm to 4pm, and 6pm to 7pm. Weekend Masses for the convenience of parishioners and guests are offered at 4pm on Saturday, and at 8am, 10am, 12:30pm and 5pm on Sunday.
Thank you for visiting our website. We hope to see you and welcome you at St. Mary's. God bless you!
Fr. Walsh